ENJOY RELAXING MOMENTS...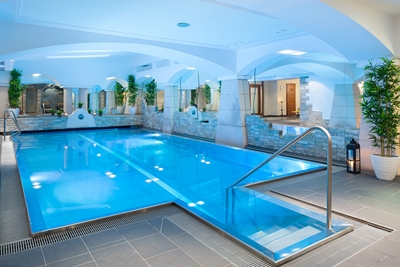 Simply relax and enjoy! The best thing after an active day in nature is a relaxing visit to our wellness oasis.
Dive into our indoor pool, relax in the aroma steam bath, the sanarium, the infrared cabin or in the Finnish sauna, or simply lean back in our relaxation oasis with a view of the mountains of the Stubaital. Wellness showers round off the offer in the relaxation area. Massages be booked on request.
The outdoor area offers a small bio pond and waterfall, adjacent is a relaxation room and the day sauna.
Simply unwind with us at the Sporthotel Cristall in Fulpmes.

After a long day of skiing in the Schlick 2000 ski area, there is nothing better than water, warmth and pleasant relaxation. In our sauna and SPA area you have the free choice: Finnish sauna, infrared cabin, Sanarium or steam bath are ready and waiting. Between your booked massages, our quiet oasis invites you to linger.
On site you have the possibility to choose from different massages. Well educated and trained professionals work for us.
Contact our reception for further information and to make an appointment.
Water is life, fun and relaxation! Let yourself float in the indoor pool or do some vigorous swimming! The 65m2 indoor pool offers enough space for both. Around the pool you will find relaxation loungers where you can enjoy the special atmosphere of our beautifully designed indoor pool area. Whether for your active holiday or for a wellness weekend in the Stubaital: In our swimming pool you can do both, play sports or relax! Book your stay at the Sporthotel Cristall now.
RELAXATION WITH A SOOTHING MASSAGE
Pure relaxation - from the classic massage, ideal for relieving tension, to sports massages or other special treatments - let our external masseurs pamper you.
Sports massage
It is used to relieve tension, but is also suitable for preparing for training and competition. Sports massages make the pain of muscle overstrain disappear, injuries heal faster and increase well-being.
Tyrolean Stone Oil Massage
Since 1902, Tiroler Steinöl® has been extracted from oil shale at an altitude of 1500 metres above Lake Achensee and processed into care products. The active ingredients found in the oil stone come from prehistoric marine animals and plants. Due to its unique, harmonious composition and the high content of naturally bound sulphur, Tiroler Steinöl® has an extraordinarily beneficial effect. Whether as a mild care product for skin and hair, or as a tried and tested household remedy for the aching musculoskeletal system.
Back massage
The back massage is ideal for releasing blockages in the back and neck area. It has a supporting effect, activates and brings fresh energy. It is ideal for those who have a sedentary job at a desk and especially at the computer, because it is here that painful neck tension, followed by headaches, occurs.
Foot massage
We use them every day. They take us everywhere. And yet most people pay little or no attention to them: our feet. Yet they can easily be pampered with little effort. Like all parts of the body, the feet consist of a complex system of muscles, nerves and tendons. Too much strain, the wrong footwear and stress lead to tension that can affect the well-being of the entire body.
Intensive head, neck & shoulder massage
A tense neck makes you immobile and inevitably leads to pain. A massage of the neck area helps to loosen the tense muscles and thereby permanently relieve tension headaches - if used regularly, of course. A head massage is basically nothing different, just a little more intense. The head massage literally clears the head.
Hot stone massage
The hot stone massage - also called warm stone massage - is a combination of a soothing massage with high-quality oil and the deep-penetrating effect of heated massage stones.
Children's massage
Light partial massage for children.