EXCURSIONS IN THE SURROUNDING AREA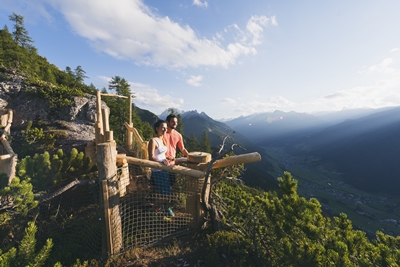 In less than half an hour you can reach the alpine-urban capital of Tyrol. Innsbruck's 800-year-old old town exudes medieval charm and tells of the city's eventful history. Famous sights such as the Golden Roof, the Hofburg or the Triumphal Gate are witnesses to an eventful past. Innsbruck, the Olympic city, is also a famous venue for international sporting events.
Innsbruck Alpine Zoo
The Alpine Zoo is home to 2,000 different wild animals from the Alpine region. Situated at the foot of the Nordkette, the zoo reflects the amazing diversity of life in the Alps. 150 different species such as ibexes, otters, brown bears, eagles and wolves can be marvelled at in Europe's highest zoo.


Bergisel Ski Jump
The Olympic ski jump towers majestically over Innsbruck and was a venue for the 1964 and 1976 Winter Olympics. The ski jump, designed by star architect Zaha Hadid, was reopened in 2002 and since then has transported visitors by inclined lift to the panorama restaurant with its magnificent terrace and 360° panoramic view.

Tirol Panorama with Kaiserjägermuseum
The Tirol Panorama is located on the historic Bergisel, the original site of the Tyrolean fight for freedom against Napoleon's Bavarian-French troops. The heart of the museum is the 1,000 m² giant circular painting, in the centre of which the third battle of the Tyrolean freedom struggle in 1809 becomes a thrilling sight. The Tyrol Panorama also explores the myth of Tyrol and its fascination. The museum provides an insight into the history, religion, nature and characters that shaped Tyrol. The subsequent Kaiserjägermuseum reveals exciting details about Tyrol's military history from the 18th to the 20th century.
Swarovski Crystal Worlds in Wattens
The Swarovski Crystal Worlds in Wattens are a magical place for all the senses! The iconic giant created by André Heller with its enchanting garden, houses an imaginative realm of crystal glass. Be impressed by a surreal crystal cloud, a large installation of 800,000 crystals, a play tower and the 16 mystical Chambers of Wonder!

House upside down in Terfens
After a 30-minute drive, you will discover a house full of surprises in Terfens. In this lovingly furnished detached house, the world turns upside down and you suddenly experience the everyday from a new perspective.
Brenner - Benvenuto in Italia
Fancy a real Italian stone-baked pizza or a freshly roasted macchiato? In just half an hour you can reach the Brenner Pass from the Sporthotel Cristall via the A13. The historic border crossing from Austria to Italy is located at 1,370 metres. In the village of Brenner with its popular outlet centre and in the small town of Sterzing, which is only 15 minutes away, Alpine lifestyle and Italian flair merge.